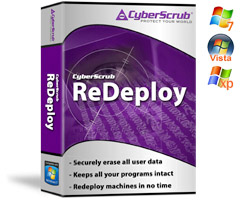 CyberScrub ReDeploy

User Data Wiping and Erasure
Delete User Pertaining information securely
Keep all Programs & Applications Intact
Protect previous user privacy
Ideal for Re Deployment of Computers within an Organization.
"Delete" or "Format" doesn't mean Erase
Whether your data is sent to the recycle bin or your entire drive is formatted and repartitioned, the chance of unauthorized discovery is very real and poses issues of risk and liability. For ReDeployment purpose you can securely wipe user pertaining data and still keep the various programs along with Operating System intact.  This helps to bring back the machine to a factory reset with OS and programs intact.
ReDeploy employs advanced hard drive erasure options that will defeat software and hardware forensic recovery. ReDeploy provides a cost effective solution for the critical task of data destruction and wiping files while keeping your program and Operating System inteact.
Essential Protection for Health Care (HIPAA), Corporate (Sarbanes-Oxley, FACTA) and Financial Privacy- Data Destruction
Designed for strict compliance with corporate/government file retention and hard drive erasure policies, ReDeploy utilizes wipe methods that exceed standards set by the U.S. Department of Defense. Fully configurable and customized, easy to deploy, ReDeploy will delete targated user pertaining data while keeping all the installed programs and Operating System files intact.  It will also take care of Shadow Copies so that the user pertaining data will not come back.
Protecting information is a serious responsibility that may have ethical and legal consequences. Health records, passwords, marketing plans, IP, bids, personnel and payroll data, tax returns, sales contracts, trade secrets and email are examples of sensitive data that may reside on a computer's hard drive scheduled for disposal. Many have discovered, to their shock and dismay, the significance of unsecured data erasure.

 System Requirements
Windows® Me/NT/2000/XP/Vista/7/Windows 8 (32/64 Bit OS Compatible)
128 MB RAM
300 MHz or higher processor
20 MB free disk space
Main Features:
Deletes all user pertaining data securely, including the Shadow Copies of the User Data.
Protects all the installed Applications and Programs, so they can be used by the next user.
Ability to customize and target  Legacy Data, specific to the Organization.
Ability to customize the licensing scheme.
The ability to maintain detailed logs of all sanitizing operations.
Redeploy PC/laptop with peace of mind!!!
Advanced Features:
Customization of targeted data available.
Protects Application and programs but deletes the user traces securely.
The ability to develop and use your own data-destroying algorithms, that perfectly suits your security needs.
Wiping Methods:
Peter Gutmann algorithm
Bruce Schneier algorithm
U.S. Standard, DoD 5220.22-M
NAVSO P-5239-26 (MFM)
NAVSO P-5239-26 (RLL)
Single-pass quick sanitizing method, with zeros
Single-pass quick sanitizing method, with random characters
 …. and many more…

System Requirements
Windows® Me/NT/2000/XP/Vista/7/Windows 8 (32/64 Bit OS Compatible)
128 MB RAM
300 MHz or higher processor
20 MB free disk space