CyberScrub products and technologies benefit Small, Medium and Enterprise Class Organizations across the world. They are used by Department Stores, Financial institutions, Insurance and Healthcare organizations, Airport kiosks, Federal, State and Local Governments, Defense contractors, Defense agencies and many more… — You can Benefit too!
Featured Business Products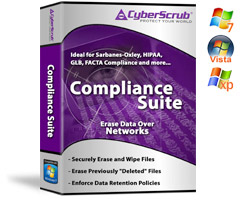 CyberScrub Compliance Suite
Erase Computer Data Over Network
Compliance Suite is the Network version of Privacy Suite product which helps with securely erasing data as per the various laws based on data life cycle management and data retention policies. Delete Selected Data Over Network -• Securely Erase and Wipe Files • Erase Previously "Deleted" Files Securely • Enforce Data Retention Policies• Ideal for Sarbanes-Oxley, HIPAA, GLB, FACTA Compliance.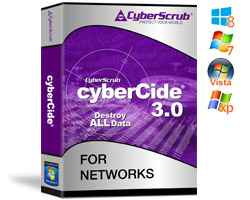 CyberScrub cyberCide 3.0
Destroy All Computer Data
Completely nuke all the data including the OS on the machine or over the Network securely.
• Destroy Data over Network/or locally
• Wipe entire drives over Network /Locally
• Advanced log file with asset management information and detailed log
• Ideal for PCs disposal, donation, transfers, End of life of PC
• HIPAA, GLB, SOX compliant

EPA Recommends CyberScrub for Disk Sanitization.
The Environmental Protection Agency, in its recent report Procedures for Disk Sanitization, has recommended CyberScrub for hard drive erasure.