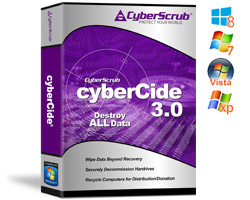 CyberScrub cyberCide 3.0

Data Wiping & Erasure
Delete ALL Data from Hard Drives
Total Hard Drive Sanitization
Secure Erasure Beyond Recovery
Essential for Sarbanes-Oxley, GLB, FACTA, HIPAA and other Regulatory Compliance
Ideal for Return of Leased Assets and Computer Disposal
FROM $29.95
Please click on Price Chart to purchase!

"Delete" or "Format" doesn't mean Erase
Whether your data is sent to the recycle bin or your entire drive is formatted and repartitioned, the chance of unauthorized discovery is very real and poses issues of risk
and liability. Securely wipe hard drives and overwrite, delete and destroy privileged data with cyberCide.
"There are no commercial or black-market file retrieval products that have been known to retrieve a file after this process."
New York Times 05/02/02
cyberCide employs advanced hard drive erasure options that will defeat software OR hardware forensic recovery. cyberCide provides a cost effective solution for the critical
task of data destruction and wiping files.
EPA Recommends CyberScrub for Disk Sanitization
The Environmental Protection Agency, in its recent report Procedures for Disk Sanitization, has recommended CyberScrub for hard drive erasure.
Essential Protection for Health Care (HIPAA), Corporate (Sarbanes-Oxley, FACTA) and Financial Privacy- Data Destruction
Designed for strict compliance with corporate/government file retention and hard drive erasure policies, cyberCide utilizes wipe methods that exceed standards set by the
U.S. Department of Defense. Fully configurable and easy to deploy, cyberCide supports 85 partition types, overwrites ( deletes ) data on both logical/physical drives, and
allows the user to select unique wipe methods for each space. Regardless of native operating system, cyberCide will identify and purge any size drive or partition.
Protecting information is a serious responsibility that may have ethical and legal consequences. Health records, passwords, marketing plans, IP, bids, personnel and payroll
data, tax returns, sales contracts, trade secrets and email are examples of sensitive data that may reside on a computer's hard drive scheduled for disposal. Many have
discovered, to their shock and dismay, the significance of unsecured data erasure.
cyberCide Data Wiping:
A solution you can trust. Ensure compliance with HIPAA, Sarbanes-Oxley, GLB, FACTA and other federal and state compliance regulations. Wipe hard drives clean, and eliminate
all priviledged health information (PHI), customer and transactional data, financials and other sensitive information.
Total Hard Drive Sanitization
Utilizing methods that meet and exceed US DoD 5220.22, cyberCide thoroughly destroys data beyond software or hardware based forensic recovery.
An Ideal Data Wiping Solution
Speed, log reports, local or network deployment and award winning support make cyberCide your ideal solution for wiping hard drives, cleaning computers, disk sanitization,
data erasure, secure file deletion, data destruction and overwriting files and free space.

System Requirements
Platform: Wintel*
Operating Sytem: none; any OS on above platform
Minimum of 286 or greater processor
550kb free conventional memory
EGA/VGA or above graphics
1.44 Mb floppy diskette or CD-ROM drive for boot disk
Mouse (recommended)
* A computer based on an Intel x86 compatible processor
Main Features:
The data on drives formatted with cyberCide are destroyed beyond recovery using advanced wiping techniques that can stop both software and hardware tools from recovering
data.
Meets and exceeds the U.S. Department of Defense standards for the computer, regardless of the file system and the operating system that resides on each drive (works with
FAT12, FAT16, NTFS, DOS, Windows 3.x, Windows 95, Windows 98, Windows NT, Windows 2000, Windows XP, Unix, etc.). • Powerful verification capabilities that give the user the
utmost assurance that all data has been completely removed from the disk.
The ability of wiping data on several machines simultaneously by installing cyberCide on bootable floppy diskettes.
The ability to maintain detailed logs of all sanitizing operations which can be printed and saved for permanent records.
Overall progress, average speed and estimated time indicators are available.
Mouse support.
Advanced Features:
Powerful command-line parameter options that allow advanced users to run the program from the command prompt with no user interface (if desired) and create different wiping
scenarios.
Sanitizing BIOS Free feature that allows user to address the full hard disk capacity even if, on some old machines, BIOS does not support large hard drives.
The ability to develop and use your own data-destroying algorithms, that perfectly suits your security needs.
The ability to generate random data streams using ISAAC Pseudo-Random Number Generating algorithm.
Wiping Methods:
Peter Gutmann algorithm
Bruce Schneier algorithm
U.S. Standard, DoD 5220.22-M
NAVSO P-5239-26 (MFM)
NAVSO P-5239-26 (RLL)
Single-pass quick sanitizing method, with zeros
Single-pass quick sanitizing method, with random characters

System Requirements
Minimum of 286 or greater processor
550kb free conventional memory
EGA/VGA or above graphics
1.44 Mb floppy diskette drive for boot disk
Mouse (recommended)
cyberCide is licensed per hard drive wiped/sanitized.
For example, if you need to erase two (2) hard drives, you will need two (2) uses.
Please note: For volume and site license options, please contact us via telephone or fax:
Telephone: 770 951-2080
FAX: 678-366-3978