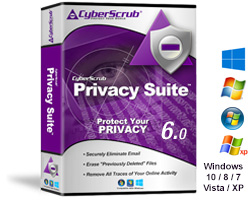 CyberScrub Privacy Suite 6.0(Upgrade)
Erase, Delete Files & Internet History Wipe Free Space, Protect Your Privacy
Erase Files and Internet Activity
Pictures, URLs, Videos, Email, Chats, Voice, Peer to Peer, "locked" Windows Files, Browser History, Newsgroups, Wipe Free Space and more.
Only $29.95

Why Upgrade?
CyberScrub Privacy Suite 5.1 is our most important upgrade in years. Regardless of your current version, you will appreciate a wealth of new features and functionality. Some of the benefits include:
100% Windows 10 Compatibility with Shadow Copy Destruction
Previous versions of Privacy Suite cannot perform even the most basic functions under Windows 8, Windows 7 or Vista. Our new Version 5.1 not only fully supports Windows 8, Windows 7 and Vista, but addresses the unique security risks posed by these new operating systems.
For example, Shadow Copies, which are virtual "snapshots" of all user activity and files, pose a particular cause for concern. While many competing products may be able to erase an "original file" beyond recovery, the copy of that file retained within the Volume Shadow Copy is not touched. Privacy Suite not only erases original files but also the associated Shadow Copies that compromise your security and privacy.
Also be aware that competitors' programs that claim to erase Shadow Copies wipe all Shadow Copies as opposed to only the necessary copies. This not only puts you at an extreme disadvantage if you need to retrieve a non-sensitive file, but also results in the loss of your Restore Points should you need to service your computer. Finally, these competing products require a full free space wipe to complete their erasure process which will take hours. Privacy Suite targets only the Shadow Copies necessary to securely delete your sensitive files, which reduces to time required to protect this aspect of your privacy.
The Dashboard™
Older versions of Privacy Suite allowed you to remove evidence of your Internet activity, ensure that previously "deleted" files were non-recoverable, securely erase specific files and destroy the contents of your Recycle Bin. However, it was up to the individual user to have knowledge of these functions and know when to run them.
The new Risk Monitor provides an unprecedented new level of security. It will automatically notify you at default or custom intervals when you are at risk. It will also alert you of available patches, fixes, updates and upgrades. You can easily address and fix each risk alert with a simple click of your mouse.
Automatically Update and Download Plug-ins
(Note- A "plug-in" allows you to clean traces from third party programs, such as Internet Explorer or Windows Media Player.)
With earlier versions of Privacy Suite software updating your third party plug-ins required waiting for and buying a new program upgrade.
Now with our Yearly Subscription (optional) you will receive plug-ins for new and existing programs immediately. A simple click will download and install. So when, for example, Adobe® Acrobat goes from version 8 to version 9, you will not miss a beat.
A 90 Day Free Subscription is included. 
Are you using Internet Explorer 11, Google Chrome 45 (beta) or Firefox 41?
If you do not have Privacy Suite 5.1/6.0, you are at risk. Older versions of our software cannot remove traces from these popular browsers. The new Privacy Suite 5.1/6.0 brings enhanced methods to remove history from these popular apps.
Are you using Windows Media Player 11?
Dated versions of Privacy Suite cannot remove traces from viewing video clips or streaming media.
Over 50 New Enhancements from just Version  5.1!
Powerful scheduling, data retention, strong 256-bit AES encryption and support for almost any third-party application you can imagine make this upgrade a sure bet. View all Privacy Suite 5.1 features